Marette Monson, LCSW, MBA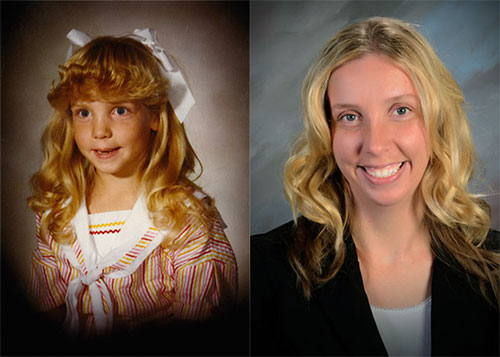 Hi. I'm Marette.
Thanks for stopping by. Before you go, get to know me a bit more by browsing this page. You'll be able to see things that are important to me.
If you can believe it, I've wanted to be a social worker since I was six years old. Yes, that's me at six. At that age, I described my future career by saying "I want to teach people to be nice to each other."
In its simplest form, that's what I do and I love it. I got my Master's Degree in Social Work in 2002 and a Master's in Business Administration in 2006. Over the years, I've learned that life is complicated and each person is unique. There isn't just a one-size fits all formula for solving life's problems. It takes creativity, drive, and tenacity to pull through. I consider myself lucky that I get to work with so many wonderful people who teach me what it means to be resilient. I bet you are one of those people. A list of the services I provide is below.
I'm not perfect, but I do believe in doing the best work I can. I take what I do seriously. People come to me because they want to see changes in their life quickly. I can help them get the results they want without spending years and thousands of dollars in therapy.
I love learning new things. My goal is to learn, apply what I have learned, and then teach others. Soon, you'll be reading about my education, certifications, and experience. I look forward to learning from you too!
So what's important to me? You are! I'd love to hear from you. Contact me by email with the button below or by phone at 801-980-1343 and tell me what you've been up to and how I can help.
Your cost for an individual session with me is $110.

Services I Provide
Individual Counseling and Coaching: If you are over age 8 years old, I can work with you on an individual basis in 50-60 minute segments. We can meet in person at my office or over a HIPAA compliant web-cam for your convenience.
Group Classes or Counseling: You might really grow from social interaction and support of others in a similar situation. I facilitate small groups and classes that meet weekly for up to an hour and a half each week. These are great places to practice new skills in a safe environment. To see what classes or group counseling I have going on right now click here.
Couples Counseling or Family Therapy: I occasionally work with couples and families too. Tell me your situation and if I am not the best fit, I know a great therapist who is and will make a personal referral for you.
Compassion Fatigue Assessment and Treatment: Focused on helping professionals, I can provide fast, quality, confidential assessment and treatment of compassion fatigue and secondary traumatic stress disorder (Vicarious Trauma). I do in-house assessments of compassion fatigue prone work-places and would be happy to make recommendations for your organization.
Emotional Intelligence Testing, Coaching and Recommendations: Would you like to know your emotional intelligence and how to raise it? I can provide the tests and review them with you. I think you will be surprised by how relevant your score is to your personal life and work environment and what a difference it can make when you can raise it!
Present at a conference, webinar, or staff meeting: I am an experienced speaker and would be happy to consider sharing my knowledge and experience to your class or group. Contact me to get on my speaking schedule.
Education & Training
1999 Bachelor of Social Work Brigham Young University.

2002 Master's of Social Work University of Utah.

2006 Master's Degree in Business Administration Westminster College.

2009 Licensed Clinical Social Worker.
Honors
1997 Outstanding Citizen of the Year, State of Utah Office of Rehabilitation.

2001 Ethel Louise Armstrong National Scholar (One of 3 in the United States).

2002 Outstanding Practicum Student of the Year, University of Utah.

2002 Connie Mortensen Woolsey and James S. Garland Woolsey Award, University of Utah.

2007: Master-track graduate, Westminster College (mentorship program reserved for the top 10% of graduates in a 5 year span).
Certifications
2009- Licensed Clinical Social Worker, State of Utah Division of Occupational Licensing.

2011- Gottman Level 1 Certified from the John Gottman Institute (Couples Therapy).

2013- Object Relations Trained from the International Psychotherapy Institute.

2014- Approved Clinical Supervisor from the Center for Credentialing Education.

2014- Certified Compassion Fatigue Educator - Figley Institute.

Jan 2015 - EMDR Certified from the Bodymind Institute.

March 2015- Certified Compassion Fatigue Professional from the International Association of Trauma Professionals

June 2015- Certified Clinical Trauma Professional- from the International Association of Trauma Professionals

Jan 2016- Rational Living Therapy Level One Certification- from the National Association of Cognitive Behavioral Therapists
Experience
Jan 2012-Present Co-founder of the Center for Counseling Excellence.

Aug 2011-Present Adjunct Professor at Gore School of Business, Westminster College.

Oct 2012-May 2015 Board of Directors of Splore.

2001-Present Volunteer for Healing Hands for Haiti International.

Jul 2013- Jul 2014 Chief Solutions Manager, Health Care Division, ClientTrack.

Jul 2008- Aug 2011 Clinical Program Administrator, Copper Hills Youth Center.

Oct 2007-Jan 2009 Administrator/Therapist, Child and Family Empowerment Services.

Apr 1995- Feb 2008 Management Consultant/Sr. Training Specialist, Discover Financial Services.

1998-2006 Governor's Committee on Employment for People with Disabilities, including a 2 year term as Chair.

1996-2001 Board of Directors of United Cerebral Palsy of Utah.

1996-1998 State of Utah Legislative Portability Task Force.